BIO
About Margie Seaman
Margie Seaman is an older writer who finally completed the novel she was always going to write: Someday Belongs to Us. She also writes a Texas travel blog, The Graytripper, mostly aimed at seniors who like to travel. She is also a web designer and SEO specialist and serves as president of Citation Solutions, Margie brought to her position at Citation, almost forty years of experience in marketing and sales promotion. She has been a member of Citation Solutions for fifteen years and became President in 2008. Before accepting the position with Citation, Margie was with Foley's, a senior division of May Department Stores, in Houston, Texas where she developed training programs for all stores' new hires and executives. Margie actively participated in the successful opening of 43 new Foley's retail stores throughout Texas, Louisiana, New Mexico, Colorado and Oklahoma. Along with training development, Margie joined the May Department Stores corporate team working to develop new standardized POS terminal transactions. Margie's expertise at coding POS applications was a perfect fit for designing websites. Citation designs sites from a marketing viewpoint rather than a strictly technological one. Margie's philosophy is that "a website is really a store front on the internet and the goal of any site that offers products or services is to get sales." "At Citation, we are interested in helping our clients build sales and grow successful businesses."
However, Margie's dream had always been to write a book and after reaching her eightieth birthday, she decided that if it were ever to be accomplished, she had better get started. Being an avid "cruiser," she drew from her experiences of cruising to the Panama Canal to use as an environmental background for her first book. Much of the action takes place on a cruise ship and the ports and excursions mentioned are very real. Margie explained that "having a book published at age 85 is a little surreal. I am beyond thrilled that this has happened and being a very optimistic person, I planned this book as the first in a trilogy and have hopes of being able to accomplish that goal."
Margie is a native Houstonian and has a BA degree from the University of Houston. She loves traveling, camping, and hiking. She is a mother of three, grandmother of seven, and great-grandmother of three. She also believes that life should be lived to fullest until the last minute and that older people still have a lot to offer and dreams can be realized at any age.
">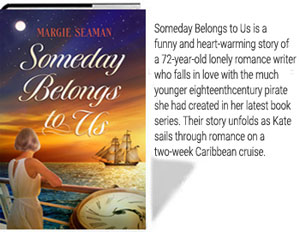 ---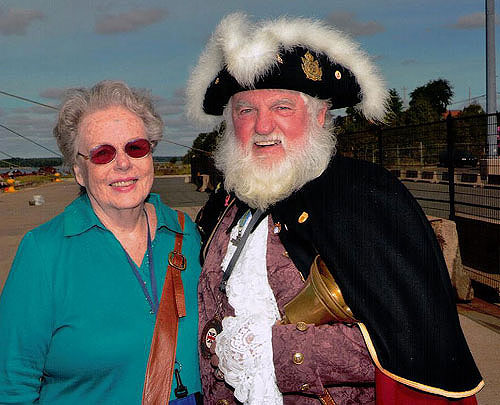 "I do seem to find a lot of pirates on my cruises. Maybe that is why I chose a handsome and dashing pirate as one of the lead characters in my book. Most of the pirates were at various ports during several Carnival cruises to the Caribbean. "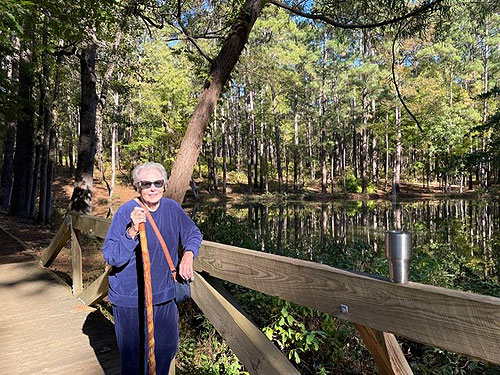 ---
Hiking has always been one of my favorite things to do. It offers the peace and solitude of being in nature that seems to help with the creative process. However, as the years pass, my knees are rebelling more and more at the prospect of long walks but I still like to get out and go a little ways before finding a bench and sitting down while my son continues to explore.
---